At today's Steam Summer Sale I grabbed Game Dev Tycoon for around 4 EUR. I started to play around noon and just now, after 6h I am finished.
Small intermission: There's only a handful of games I really ever completed, on the SNES I just remember one Clay Fighter title, for example – I usually give up somewhere midway, and this week I already completed 2, yay me.
So, the game is about running a small game studio from one man in a garage to being a multi-million (I didn't manage billions) company with employees.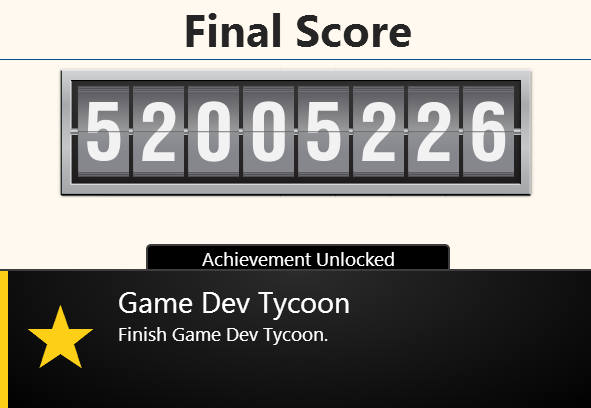 I like the art style, it's basic, but absolutely good enough. The music is nice and did not annoy me even after 6h despite being a little repetitive. I never worked in games development, but it's a pretty damn accurate portrayal of software development in general, just enough details to not be wrong, without needless stuff players are probably not interested in (imho).
Apparently I unlocked 15/33 (45% of Achievements).
I got surprisingly few things to criticize:
The "selected features" when creating a new game are somewhat like a tech tree, i.e. you replace "Stereo Sound" with "Surround Sound", but the UI does not group them. So either you throw the old ones out in your new game engine (which is kind of final and you might not always want to do that) or you click around a little too much. Cheap win for UX. (nice to have)
Events that occur to you can't be postponed. No problem for donation calls or something, but just at the end (without spoilering) I would have liked to send my whole team on vacation for a month before they undertook this massive event that popped up and I could just accept or decline. (Surprisingly, the only non-exhausted developer came ahead. I snickered.) (The game doesn't punish you, but would be nice and would add depth to your decisions)
Game Conventions should need planning. This one G3 (hehe) is announced to be "in 4 weeks" – but I have no timetable, if I can ship my game just before. Then again the game apparently does not care if I announce Vaporware or have a fresh title. (nice to have)
You can speed up most info dialogs by clicking, just not the 2 of them: visitor numbers from game conventions and reviews for your game. Why, why, why? "Click for instant text and dismiss the animation after the 10th time" – this was really annoying in the end. But to be fair it made me get up every hour and fetch a drink or something. Maybe educational 🙂
After playing for some hours you have just too many games and they are presented badly in the Game History. Bonus points for allowing arrow keys, but next playthrough I will open an Excel sheet on the second screen or have some pen and paper handy. I don't miss that from the 90s games – but I think it could help, unless the Game History would be presented better (gets tedious after your first 20-30 games) for games to be grouped, filtered or sorted.
That's it – not much that was not super fun.
Oh, and here are my final stats: