It's only a small game, but a very good one. David Brevik (of Diablo and Marvel Heroes fame) apparently went indie after stepping down as Gazillion CEO and already delivered.
If you remember Mario's Picross from the original Game Boy days, Nonomancer is basically this, reimagined. Not very creative, but it still works and kept me busy for around 6-8 hours (for 50 levels).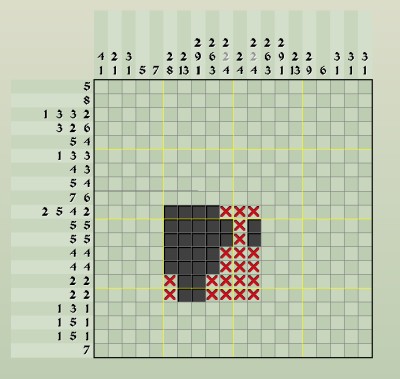 The key difference are that there's no time limit, and you don't get penalized for mistakes – which kind of makes it easier, but you can't take a small hit to get a hint like in Picross. E.g. decide a 50/50 chance by just guessing and get either a correct field or some info plus an error…
The only downsides are that you don't have a helper to draw straight lines (shift-click like in Photoshop might work) or play it with a controller.
Unlike Picross on most difficulties not all of the puzzles can be solved without guessing, but you get to choose one of a variety of power-ups to get you a headstart – in the picture above a 7×7 field was uncovered on game start.