I wrote a post back when I preordered Heart of Thorns in June 2015. So on September 15th I did it again and preordered the Ultimate edition of Path of Fire, Guild Wars 2's second expansion. I've been playing again for a few weeks now, the cash shop was not in my face, I'm thoroughly enjoying myself and this is my "Thanks developers, have some money, because I don't have to pay a monthly fee". That's less than 200 EUR for more than 2 years of GW2, if I had chosen to play that much. WoW would've been at least 300 EUR for exactly 2 years.
This time I'm not forgetting to take a screenshot of the page: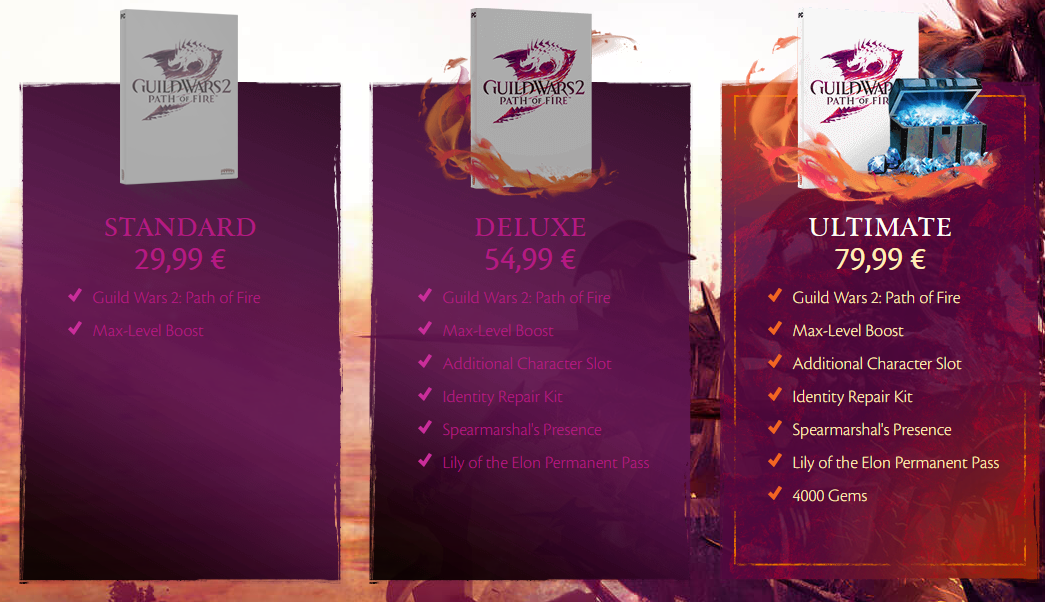 So yes, I like this package – I've bought HoT with gems that lasted me until now and now I have 4000 more gems to spend and in between there's a few bonus things.
"Pre-purchase before launch and receive one Sunspear Weapon Skin of your choice, a Miniature Balthazar, and the title of Elonian Envoy."
Also not bad for just buying it a few days earlier than launch.
I'm not so much excited for the content (I liked Tyria better than the HoT content) but we'll see. I'm definitely eager to check it out, but not necessarily on launch day.
I now also have 2 open slots, 2 character professions missing, and 2 Level 80 boosts. Fits perfectly, and still there's so much to do even without this.