While I'm not actively playing it, I am logging into Guild Wars 2 for the daily rewards quite frequently, which means I have a ton of the things they hand out for that. Not that I was lacking those things back when I was playing actively, it's always the same stuff after all…
So today I log in and see not one, but two of the blinking twisting animated icons in the bottom right corner.
"Preorder 'End of Dragons' and get a free Level 80 boost!"
Hmm, couldn't you have made it in any way less interesting?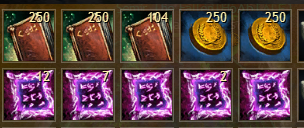 That's my bank. 1 Level 60 boost, 2x 50, 1x 40, 7x 30, 12x 20. 604 x "grant one level", that would be 7 more Level 80s on their own. If I combine them in a smart way I could boost 13 characters to Level 80 right now, and the leftovers would be one more Level 34. (then I discovered 109 writs, so that's another 5 Levels more)
I didn't have to make this ridiculous calculation, but come on, ArenaNet – could there be ANYTHING less exciting for anyone who has played in the past than a Level 80 boost? Even an ugly mount skin would have been more interesting.
But this wasn't supposed to be a complete rant and finger pointing. I'm probably over my GW2 days but I am genuinely happy there will be a new expansion, for all the people who still play it. I meant to keep getting back into it, but the other games seem to just be more interesting to me right now (and the last 2-3 years).
If you've never played GW2, you should actually try it. Sadly I won't be able to hand you one of my 13 Level 80 boosts, but you should try leveling in a normal way anyway. At least if you're like me, who kinda stalled out more on the whole "horizontal progression" thing at the end, that's why I have 5 Level 80 chars (without much or any boosting), one Level 70 (with quite a bit of boosting), and 1 lowbie.