Wasn't in the mood for a lot more Mass Effect after Sunday lunchtime and today, so I decided to do some more prestiging.
Well, actually I had a few Heroes I had originally levelled in Midtown and not in story mode, so they only had 154 Power points (instead of 166 if you do all the important steps of story mode).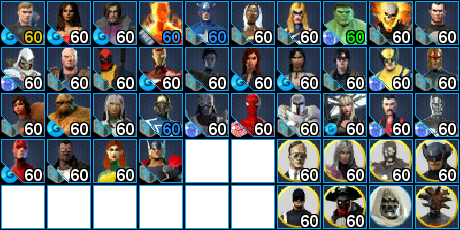 Result: Hulk is green (prestiged once) and Star-Lord is blue (prestiged twice). Yes, the colors absolutely do need to fit the characters.
This makes: 33x Level 60 + 12 prestige runs + 1x cosmic prestige.
Plans regarding this for the future: Captain Marvel and Thing still haven't done story mode.
Plans regarding matching colors: (white -> green -> blue -> purple -> orange -> red -> yellow)
Scarlet Witch:

red

– 5x – 🙁
Gambit:

purple

– 3x – ok
Captain Marvel:

white

(this costume) or

blue

(All-New All-Different costume) – ok
Ghost Rider:

orange

– 4x – 🙁
Taskmaster – white/blue – ok
Deadpool –

red

– kind of ok
Iron Man –

yellow

(cosmic, not gonna happen)/

red

– kind of ok
Nightcrawler –

blue

/

purple

– kind of ok
Wolverine – yellow (nope) – not sure what to do
Rogue –

green

– ok
Spider-Man –

red

– kind of ok
Daredevil –

red

 – 🙁
Jean Grey –

green

– ok
The rest is fine in white. And no, I don't think I'll deliberately work towards this. But the green is horrendous, so only Hulk and Rogue may stay there, all others must directly go to blue. (Unless I get She-Hulk, Vision, Loki, and maybe Doctor Doom).