After a weekend with a lot of FFXIV I got Bard to 80 today and I should be only 5 MSQ steps away from finishing the original Shadowbringers content. And 1 dungeon and 1 trial.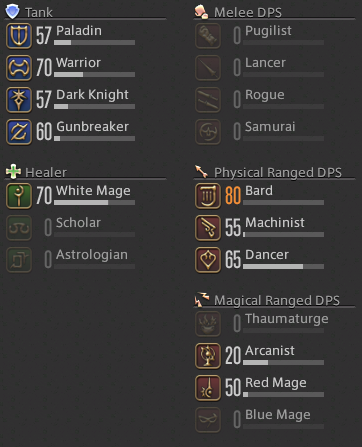 So I actually managed to give in to the urge to progress Warrior and White Mage, unlike two years ago. I did do some stuff on other jobs, but only thing I wanted to do anyway, for example Beast Tribe dailies on Dancer, duty roulette on Paladin, Dark Knight, and Machinist.
The next step is finishing up the MSQ, then looking into Beast Tribe dailies for crafting, as I want to get those to 80. Or, to 71 first and then buy some gear to replace my Level 50 crafting greens from… I don't know, maybe the Grand Company. Machinist needs a few levels so I can slowly get rid of the gear, same for the sub-60 tanks. I am a little curious about Samurai or Rogue/Ninja, but for now I'm waiting.
And I bought a Level 71 set of crafter gear in the Crystarium, it's 22170 + 36950 + 16795 + 22170 + 36950 + 22170 = 157205 Gil. (6 pieces, left side, no jewellery) Main and off hand are 40398 Gil each and I did not buy those yet, but the gear is shared. Also found one cheap 71 HQ earring on the marketboard, that needs to be enough for now.
It's Blaugust again and this is post number 15, which means I have earned my silver badge, and I even have 2 days spare!