My plans seem to have changed a bit since I wrote about hitting 80 on Dancer last week, as I did start to level all the jobs I hadn't started, at least for a bit: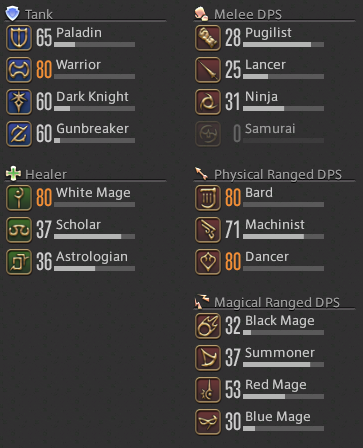 So Paladin is moving towards 70 with daily MSQ when I feel like it and Kojin/Ananta dailies when I have spares. Red Mage is working on Vanu/Vath rep. Scholar/Astrologian got a few dungeons in, mostly Leveling roulette and then whatever is the highest available dungeon. Machinist is doing the Pixie dailies and Alliance Roulette, Summoner is getting cheated by Scholar, as usual. Pugilist and Lancer are doing some dungeons, and finally I'm doing the Hunting Log on all the lowbie classes.
The "plan" is to get everything that is below 50 to 50, mostly to be able to get rid of all the gear and because I was actually nosy how they play. When that is done I will unlock Samurai as well, then it's back to focusing on the higher jobs. Prio right now are Machinist and Paladin.
Also the mount farming went well, but we spent quite a few hours: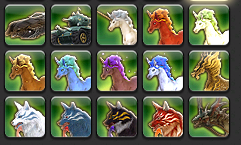 After our 50 odd kills to get everyone the Suzaku wolf we went to Tsukoyomi today and were kinda lucky, after 6 runs we had the few missing ones. Then we went to Lakshmi, where 13 runs where enough, then off to Susano, with 8 kills for the missing ones, and then to Shinryu where we didn't get a single mount drop in 12 kills, so that will be interesting.