Shintar wrote a really cool blog post about her raiding history and I thought that would be a good topic, so here it goes.
When I started playing WoW (which is a story for another day) I had only played Ragnarok Online, an MMORPG that doesn't have the concept of Raids. So anyway, I leveled along with my girlfriend, starting in summer 2005 and finally reaching level 60 in late spring 2006. We didn't know a lot of people on the server, basically just one friend from university, and he had stopped playing already by then, because he had already been 60 when we started and got bored. So we leveled as a duo (Rogue + Prot Warrior) and also did some PvP. On a PvE server that meant battlegrounds. So we played, and because we did that a lot in the 50-59 bracket at some point she was approached by a guild if she wanted to join. Apparently Prot Warriors made decent flag carriers in Warsong Gulch and were also kinda hard to take down when guarding a flag in Arathi Basin. So she joined and after a bit I joined as well. We got to 60 and did mostly battlegrounds, every day. At some point we got to rank 11, got our mounts… and then a few things happened. We'd been playing from my room and I moved out, and because of the horrible honor system in vanilla and this one week offline we stopped progressing and also didn't want to continue to fight our way back up, so rank 12 was kinda not a goal anymore.
At the same time some people in the guild who had only ever done PvP, just like we did, wanted to have a look at the 20 man raids, and so our guild leader (who had raided before, either on another character or maybe even on Alliance) took us to Lower Blackrock Spire for "training". Yes, some of us hadn't even done all the 60s 5 man dungeons like Stratholme, Dire Maul, Scholomance. The result was kind of hilarious. I don't remember everything, but I'm pretty sure you could still enter LBRS with 10 people, so were probably 8-10 and I think we made it through, but it wasn't pretty. And yes, some of us probably hadn't run a 5man in a while (I remember doing a few UBRS runs for the dagger that never dropped and one other Rogue in our guild had 2 of them…)
So because not everything was hopeless we started to do Zul'Gurub and AQ20. I don't remember the specifics, but for some reason there was a falling out between the guild leader and nearly everyone else and because he didn't step down, 90% of the people left and reformed the guild under another name, with the same officers, and a few more, including us two. We continued to raid weekly now together with another small guild whenever we got the numbers, but it wasn't easy. At some point we had the luck (still feels a bit like cheating) that our (new) guild leader somehow got hold of a friend's fully Tier 2 equipped Protection Warrior, and suddenly we had a really well-geared Main Tank and I'm pretty sure that helped us a lot. Although in the end, ZG gear wasn't so much worse than Tier 1, so we had 1 person out of 20 who was a full gear tier ahead…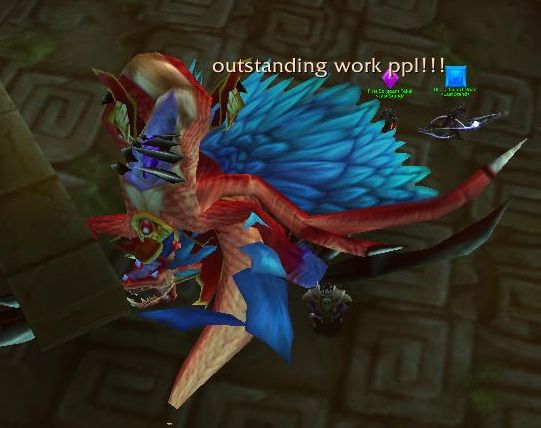 We downed Hakkar after a while and that was the first of those moments where everyone's just screaming on voice comms because you finally managed to clear the instance after working hard on the last boss. I don't even remember if we cleared AQ20. We did 1 or 2 nights in MC, but as we were only 20 we needed some other folks and the overhead of keeping DKP for this made us stop very soon, also The Burning Crusade was drawing near… But we still clearly felt like the underdogs – we were late to the party, but it was basically still the same PvP guild that had decided to try PvE and it had worked out. I don't care if Blackwing Lair was a lot harder (I really have no clue, I can only assume it was), but we were kinda happy the way it went.
It's Blapril and this is post number 4.