A few weekend plans got cancelled (not that there's exactly a lot to plan outside) and so I finally? managed to finish all my Disciple of the Hand quest lines – but I think I started early this week already. Eight times from the Level 53 quest all the way to the end at 70. I think the steps are 53, 55, 58, 60, 60, 63, 65, 68, 70. Some of them are easier than others, some are downright annoying to go from here to there and back again. And again, and again.
They really made them better in Stormblood. In general less travel and especially getting the mats handed to you and not having to buy everything from the market board as with the Heavensward quests. The quest chains are still long enough even without the shopping. Most were really fun.
The only thing left to do for me now are the Stormblood Disciple of the Land quests, all three chains – so I have no idea how much work they will be, but I plan to finish those up before Endwalker launches.
Also nearly two weeks since I posted a general update: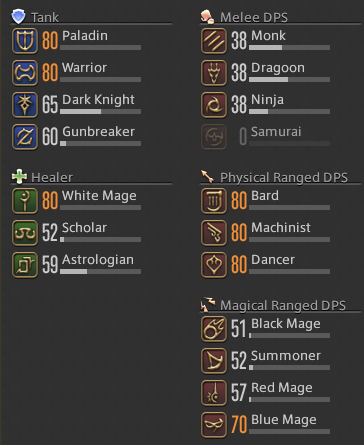 Machinist and Paladin are 80, Dark Knight is 65, Astrologian is close to 60 – and my current goal is to get the melee jobs to 40.