So today is the day of the Endwalker prepatch, which means Shadowbringers is officially over.
It was a weird beginning for me, starting FFXIV in February 2019, staying for half a year, preordering Shadowbringers, then stopping to play at Level 68, so close to the Shadowbringers content that everyone had lauded so much. Not by that time, but the hype was real already. But the MSQ had gotten to me and around fall I simply stopped playing, to return only in summer 2021, basically 2 years later when everyone was already finished with the expansion.
I had managed to finish Stormblood in my 14 day free welcome back trial, then needed around two weeks to get through the Shadowbringers MSQ and to reach Level 80 on the first job and here we are now, 3 and a half months after I started, with 6 jobs at 80.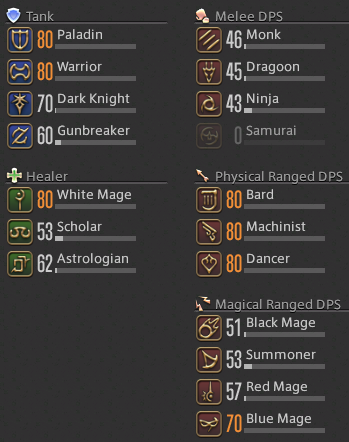 I think I did a pretty job catching up (and not wasting EXP as they'll round down everything to just the current level), compared to when I resubbed: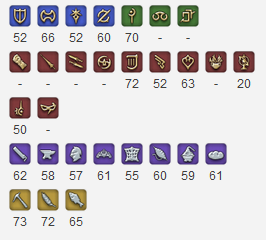 Sure, the optimum outcome would've been getting a few more to 80, the 3 melee jobs to 50, and the casters to 60 – but I'm not complaining. I deliberately didn't powerlevel and stopped when I didn't felt like it, I'm happy with the outcome.
And so I just desynthesized all my belts, spent all my irregular Tomestones from the event, paid for a 2nd retainer which I can only create on Friday because I want a Bunny Boy and semi-cleaned up my bags. But it's just too much stuff with leveling gear for all the jobs, so I guess another retainer isn't the worst choice. Funny how I said I'll cancel my first paid retainer once I sold all my mats, and then I bought all the Poetics gear for all jobs at 50, 60, and 70.
Anyway, this will be my first expansion launch in FFXIV, and I'm looking forward. I have no big plans, WoW is cancelled, and I even got a few vacation days left that I had to spend anyway. Not on Friday, but early next week.