Apparently Gazillion thought it would be a good idea to have a Daredevil event this weekend where you'd get +200% XP and another +50% for playing Daredevil or Punisher.
Apparently I thought that it might be a good idea to take advantage of that… So now I have a Red Prestige Daredevil (white -> green on Saturday, green -> blue -> purple -> orange -> red on Sunday) and then continued to nix my poor judgement of not doing story mode for a few chars and thus lacking power points. So Thing went to green and Captain Marvel to blue. My record time (with Daredevil and a ton of buffs – roughly +563% displayed + probably 150% server buff) for a full 1-60 run is 27 minutes, 32 seconds, but mostly it took around 30 minutes. Thing was slower with 40 minutes and with 200% less XP Captain Marvel needed around 50 minutes each for both runs. To end the day on a less grindy note I finally did Chapter 10 for the first time – on Hawkeye.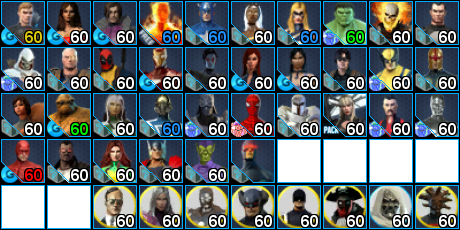 And then I also lucked out on Splinters again and thus have Cyclops. So that's 36 characters, of which 35 are max level and 8 Level 60 Team-Ups, plus 20 non-Cosmic prestige runs and 1 Cosmic prestige run in 395 days since I started playing. Apparently that puts me into the top 10 "number of combined character levels" leaderboard already, although it's only 3400 – whereas the current #1-#3 have 23520, which maybe means they have cosmic prestiged every single hero? I can't seem to make up the math.
Maybe time for another most-wanted list:
Juggernaut
She-Hulk
Kitty Pryde
Ant-Man
Venom
and the rest is not so interesting right now I guess.